Renovating a legacy brand
How a redesign future-proofed Marble Art for the next generation of owners and clients
No one wants to hear that they look "old," and the same can be said of someone's brand. It can be difficult to convince a client that their brand image needs updating. This is especially true if business is good, or, in this case, really good.
Navigating the challenges of an outdated image
Marble Art has been operating out of British Columbia for more than 30 years. A top marble and stone company in western Canada, Marble Art has an impeccable reputation and an impressive list of high-end clients. After three decades, however, Marble Art's visual identity and website looked dated and out-of-touch with current trends. While their brand image didn't affect their ability to get business, it also didn't reflect the quality of their products and the level of craftsmanship that Marble Art offers. They needed a brand redesign to attract up-and-coming builders, designers and architects new to the industry and unacquainted with Marble Art.
Marble Art is also a family-run business. As the owners are nearing retirement, they have begun succession planning for their children to take over the business. A brand refresh would help future-proof their business for the next generation of owners and clients. 
Future-proofing a legacy brand
Hop Skip is no stranger to revitalizing brands and transforming them from frumpish to fabulous by identifying and accentuating their unique positions in the marketplace. We worked with Marble Art to refresh their brand messaging, visual identity and website so that their branding reflected the high calibre of Marble Art's stone artistry.
The redesign started with a brand messaging workshop to identify Marble Art's unique differentiators in their marketplace and how that would be illustrated verbally and visually.
We didn't want to veer too far from their original brand; instead, we wanted the new logo to be a natural progression from the old one with a nod to their West Coast roots. We went through several logo iterations before landing on their final brand identity. The brand rollout included new building signage, collateral, sample labels, vehicle graphics, and so on.
The new website features all-new, colour-corrected, custom photography to showcase each stone's colour as accurately as possible.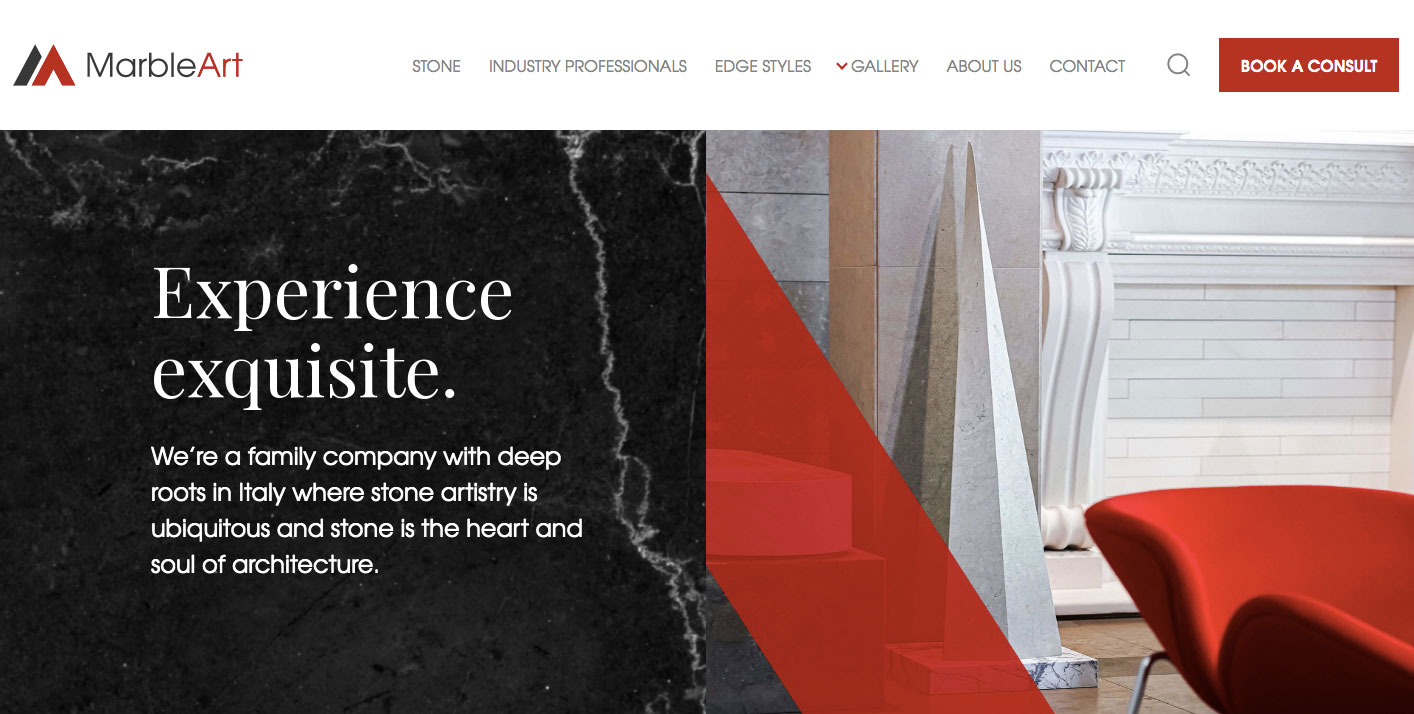 Stronger brand alignment produces results
The Marble Art rebrand was a success. The new logo and website now better align with the company's high-end persona. We successfully laid the foundation upon which this brand can continue to grow; educating a new generation of builders and designers and producing results.
"The Hop Skip Marketing team did an excellent job on the brand refresh and website redesign.  It was important to our team to not lose the brand equity we had built over the last 30 years during the rebrand and that anything we put out to the market showcased the quality of our work and craftsmanship.  The Hop Skip team, and their partners, were professional, creative, engaging and really listened to us. We are so happy with the end result and feel the brand and website now aligns with the reputation we have in Western Canada."