Rebrand earns extra credit
Dramatic brand transformation improves lead generation
iCapital is an online financial services company that offers quick business loans and other financing products. It was one of the first online lenders in Canada, so education and credibility were our priorities when we rebranded them nearly 10 years ago. Since then, we've worked hard to hold iCapital's share of market in the face of dozens of new entrants. Because of the fierce competition, brand awareness and brand confusion have been major ongoing challenges for iCapital. Additionally, copy cat competitors would repeat our messaging and imagery on their websites, so we've constantly updated the messaging and imagery to keep ahead.
In 2019, we ran some in-market tests to validate our instinct that it was time to dramatically rebrand iCapital in order to improve lead generation. After auditing the competition, we recommended:
A new colour palette, new look to the imagery, and modifying the existing logo
A website refresh with new messaging
Updating the ad design
Further streamlining and digitizing the loan application process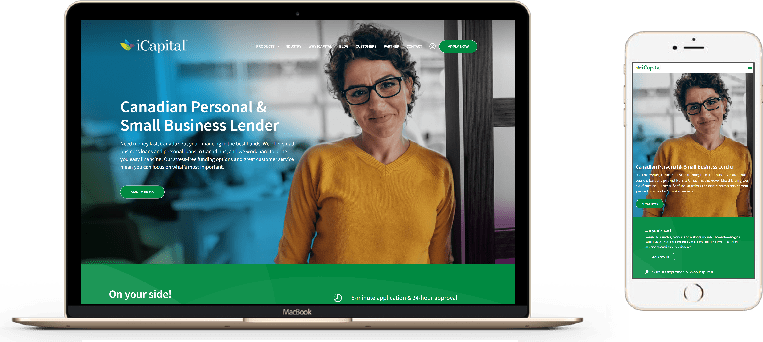 Fresh new look and value-added content
With confidence from the in-market tests we conducted, we moved from red and white to a bright palette of greens, blues and purples — all the while ensuring that it was distinct from competitors. We introduced a new brand concept, "Seeds of Growth," that includes a seeds/leaves icon, which symbolizes iCapital's mission to help clients grow their businesses.
We also updated the messaging for differentiation as well as improved search ranking. Lastly, we produced a year's worth of video content to attract and educate small business owners. These shorts also reinforce iCapital's position as the industry thought leader and a helpful resource.
Improved user experience through marketing automation
We knew from testing and tracking that some applicants would abandon the application process if there were more than 4 steps involved, or if they were concerned about sharing their personal and financial information. To give applicants more confidence and peace of mind, as well as improve iCapital's business processes, the website refresh included a major system upgrade, which we led. It included fully automating the system by integrating the existing CRM with a financial data management tool that allows applicants to grant iCapital access to view their bank statements. The result: a more secure, quicker way to apply, and in the back-end all of the applicants' information is now compiled in one place.
Analytics-driven digital advertising strategy
Next, we made three major changes to the lead nurturing program to increase lead generation and conversion. First, we added a pre-qualification step to the online application to eliminate people who are ineligible. Then, we developed all new digital ad designs and ad copy. And finally, we set up a software integration that connects the digital ads with the CRM to tell us which ads worked best. Even better, the tracking system tells Google when the ads convert to sales so, over time, Google is learning the type of person most likely to respond to Ad X or Ad Y.
Revamp results in more highly-targeted leads
This transformation has reenergized the company inside and out. Most importantly, it has delivered the results we were aiming for:
Ad click-through-rate increased by 80%
Digital ad conversion rate grew by 8%
Completed applications jumped by 15%
It's incredible to step back and see how far we've come with marketing since our first rebrand and web refresh. Of course, so much of the work we've done for them has been necessary to keep ahead of the competition, but it's impressive nonetheless. And it shows the impact that a strong brand can have.
"After five years working with Hop Skip, we can proudly say today we are the leader in our industry. Our brand is now the strongest in our category from coast to coast.
They report on where our marketing dollars are best spent and which tactic is producing the greatest results. Even in the most challenging of situations, there is always an answer, a new way of doing things or simply a great idea. They have earned our trust, and they have done this by generating incredible results."