Case Studies
Corelife Wellness

The birth of a brand and little-known solution
How we built the Corelife Wellness brand from conception to implementation
When the founders of Corelife Wellness first approached us, their business was in its infancy. They had a business concept but nothing beyond that—not even a name. They hired our team to help them take the company from concept to a thriving business.
The vision was to create a medical clinic focused solely on helping women with urinary incontinence. Their centrepiece offering, the BTL Emsella® chair, is a new technology that provides non-invasive electromagnetic stimulation to deliver pelvic floor muscle contractions for the purpose of rehabilitating a weak pelvic floor. They had several challenges to overcome, the most significant of which was educating the market about the technology.
As always, our starting point was creating a marketing strategy to clarify what we would do for them. The resulting strategy had three pillars: developing the brand and collateral, building awareness of the brand, and providing a stand-out customer experience. There were dozens of tactics involved in executing this strategy, but for the purpose of this case study we'll focus on the initiatives that were most integral to the successful launch of Corelife Wellness.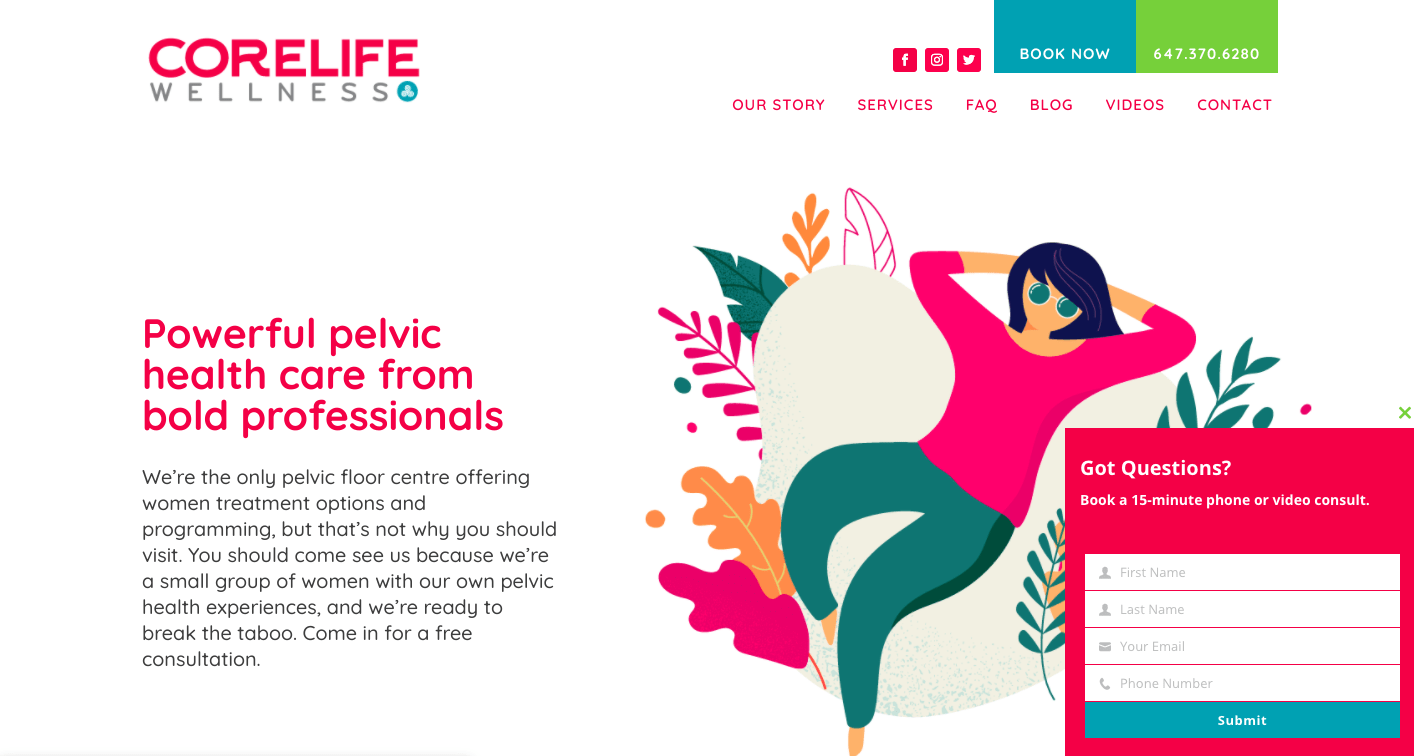 Naming and creating a brand "look and feel"
Before picking a name and diving into the logo design, we ran a brand and naming workshop to give them both intention and substance. We determined that the brand should have a feeling of femininity, empowerment, inquisitiveness and friendliness. The messaging included ways we intended to deliver their service and stand apart, and we agreed that it would sound direct and a little playful — we'd avoid a dry clinical feel, but remain professional. 
We generated two dozen potential names that we then market tested. In the end, Corelife Wellness was the winner. We then brought the brand to life through a website, collateral, ads, and the design of the clinic. The look was full of colour and we used illustrations and line art for imagery — these set Corelife Wellness far apart from the competitors, which use either spa images, plastic surgery beauty shots or stock imagery of families and women. 
Creating awareness of the company
Once the infrastructure had been built, we turned our attention to getting the name out there and espousing the benefits of the BTL Emsella® chair. We also had to educate women about urinary incontinence. It was a big job that included:
Advertising in print, digital, social media and more
Direct mail
Building a presence on social media
Content marketing including a guest appearance on a podcast, blog posts, and brand ambassador testimonials
We also engaged with two carefully selected social media influencers. We had them try the treatment so they could speak first hand about Corelife Wellness. We also started an ambassador program that featured real women struggling with different levels and types of incontinence. Our ambassadors wrote about the experience and the results they saw from their Corelife treatment. This work was instrumental in getting the Corelife brand out there — it generated a 300% increase in social followers in a single month. 
Creating a great customer experience
Great customer experience leads to word-of-mouth growth and glowing Google reviews. From the start, we were intentional about the experience clients would have. As such we broke down people's experiences in steps, from the point when they first learned about Corelife to interactions that would come after their treatment finished, to ensure consistency and quality.
Results
Just one week after Corelife Wellness opened its doors, Covid-19 hit Canada. But we soldiered on with social media, advertising and DM campaigns. The work paid off — in just four months we had generated:
3,000 followers across three social channels, which drove 40% of their web traffic
Ad campaigns that contributed to 45% of the website traffic
A waitlist of 75 people  
"We couldn't have been Corelife Wellness without Hop Skip Marketing."