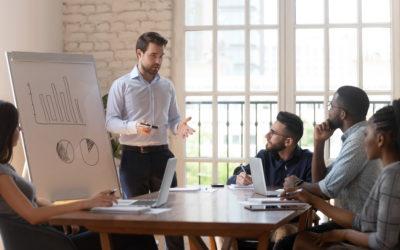 Here's how to align your sales and marketing teams – and why you should
It's easy to imagine that you need a sales team or a marketing team. After all, both work towards generating leads and making sales. If your company doesn't have both teams, you're not alone—it's much more typical for small and mid-sized B2Bs to have sales in place, but not marketing (or for the marketing tasks to be assigned to someone in sales or admin). The truth is, both departments are crucial. You wouldn't leave 32% of your profit on the table but that's exactly the amount of additional revenue a well-aligned sales and marketing team can generate for you, according to revenue.io. If you want a piece of that pie, read on.
Best practices to align your sales and marketing teams
Define team roles
The idea is to get your teams into alignment and that means everyone should know what their responsibilities are. Use the sales funnel as a way to communicate processes. Make sure every individual on each of your teams knows which parts they play and how they contribute to advancing customers down the funnel.
Brief your teams about your buyers and their consumer habits
Gather intel on your target customers and how they buy and present both teams with this information. Together, your teams can create a customer persona which will help them in their daily decisions. Being on the same page from the get-go will increase the likelihood of producing and enacting a better strategy.
Perfect your messaging and align your content
Communications from your sales and marketing teams should always be congruent to create a single customer journey. This means everyone must use the same messaging. Create the strongest message you can and ensure that customers are met with the same value propositions no matter who they're interacting with. Content is often left with prospects for them to peruse without a salesperson present so it must also serve to strengthen the overall messaging.
Practice a successful marketing to sales handoff
In general, marketing handles tasks at the top of the sales funnel while the sales team is responsible for qualifying the leads and closing sales. Take a "marketing first" approach to make sure your leads are warmed up and aware of your company before they're contacted by sales. The point when marketing hands off a lead to sales can go really well… or not. Brief your teams on this critical point and ensure everyone knows their role.
Choose the right tools
There's a lot of software around that's designed to assist sales and marketing teams with their tasks. Their roles are different so it's not surprising that their tools sometimes differ as well. Whatever programs or software you use, from your CRM to your email, they must integrate seamlessly between teams so you never lose valuable data.
Use sales and marketing service level agreements
Sales and marketing teams can use service level agreements to hold one another accountable by setting out agreed-upon commitments for how (and when!) they will do their tasks. SLAs can vary widely but they should always be designed to drive revenue.
Measure using joint KPIs
One of the major points of dissonance between sales and marketing comes from the fact that each department measures its success using entirely different metrics. It's nearly impossible to align efforts when your sales team is looking at numbers of new accounts while your marketing team is tracking brand awareness. Measuring with joint key performance indicators (KPIs) gives a fuller picture of performance through the sales funnel and gives your teams an apples-to-apples language with which to strategize.
Use Voice of Customer (VOC) data
Customer feedback is gold. It can help you identify pain points and improve your systems. Have your employees gather feedback during interactions with customer service and on sales calls and use these insights to gain a competitive edge.
Meet in person
Regular and frequent face-to-face meetings are critical to aligning your teams. Zoom, email, and chat all have their place but a weekly get-together will produce a much more connected team. Use these meetings to review and adjust strategy.